Let us show you how database continuous delivery can play a critical role in fast and safe application shipping, while reducing critical application downtime.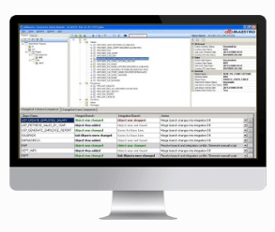 Join our demo and learn how:
To identify the gaps in database automation and analyze why there is a mistrust in automation for the database and the steps to overcoming it

To enforce database change policy

Our solution integrates fully into your current development environment, working seamlessly with task-based systems, ALM tools, and other build-and-release automation software.

To enhance database security and regulatory compliance
See why Barclays, Visa, Isracard (MasterCard), Frost Bank, Thomson Holidays, and Bank Leumi use our DevOps for Database solution.
Get in touch to request a technical demo of the DBmaestro Database DevOps Platform for your enterprise.